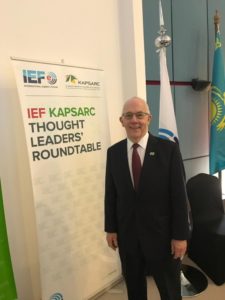 King Abdullah Petroleum Studies and Research Center (KAPSARC) participated as a knowledge partner in the 9th IEA-IEF-OPEC Symposium on Energy Outlooks, from Feb. 26-28  at the IEF secretariat in Riyadh. Topics discussed included the oil, gas, petrochemical and refining sectors and renewable energy.
The International Energy Forum (IEF), event was organized in coordination with the International Energy Agency (IEA), OPEC and the European Union under the theme: The Economics of New Energy Technology: Lessons Learnt and Future Visions for Cooperation between Europe and the Gulf.
The symposium aimed to contribute toward deepening participants' understanding of the economics of new energy technologies and evolving energy policies aimed at making energy markets more productive, sustainable and secure.
"The meeting will present the latest developments of renewable energy, review some of the successful global experiences in energy mix diversification and the GCC's efforts in developing new energy technologies," said KAPSARC President Adam Sieminski.
Sieminski moderated a symposium session entitled "Key Stakeholder and Industry Views on Short-, Medium-, and Long-Term Energy Outlooks," while KAPSARC researcher Hisham Akhonbay delivered a presentation based on his edited  book "The Economics of Renewable Energy in the Gulf."
Akhonbay noted  that every gigawatt of new renewable energy generation capacity can save the Kingdom 3 million barrels of oil equivalent per year.
Akhonbay, said 11 research centers from eight countries contributed to the book which focuses on three themes: the importance of polices to promote renewable energy, ways to deploy renewable energy in Gulf countries, and related job creation.
Published by Saudi Gazette  on Mar 3rd, 2019