Access our machine readable API ready energy open-data and model-tools
This page provides free access to KAPSARC's data and research tools, to advance the understanding of energy economics and environment policy pathways.
Data portal contains over 1200 machine-readable (API ready), model-ready data sets, with over 50 million records of data. Energy datasets gathered from 175 data sources, 50 of which are regional. Each dataset shows the data source, link to their data use terms and the timestamp of its last update on its information tab. We check the validity of each regularly updated data set at least every 45 days.
We publish open source energy tools and models that are licensed for public use.
Tool

Overview

Saudi Arabia aims at transforming its hydrocarbon resource-rich economy into a sustainable and diversified one over the coming decade. With this goal in mind, the Vision 2030 initiative introduces a set of complex socio-economic transformation targets. As a result, diversification is expected to significantly change the sectoral composition of the economy, with the manufacturing and service sectors becoming further pillars of sustainable growth. This tool allows for a medium-term impact analysis based on relevant IOT with updated inter-industry flows and technical coefficients matrix.
Preview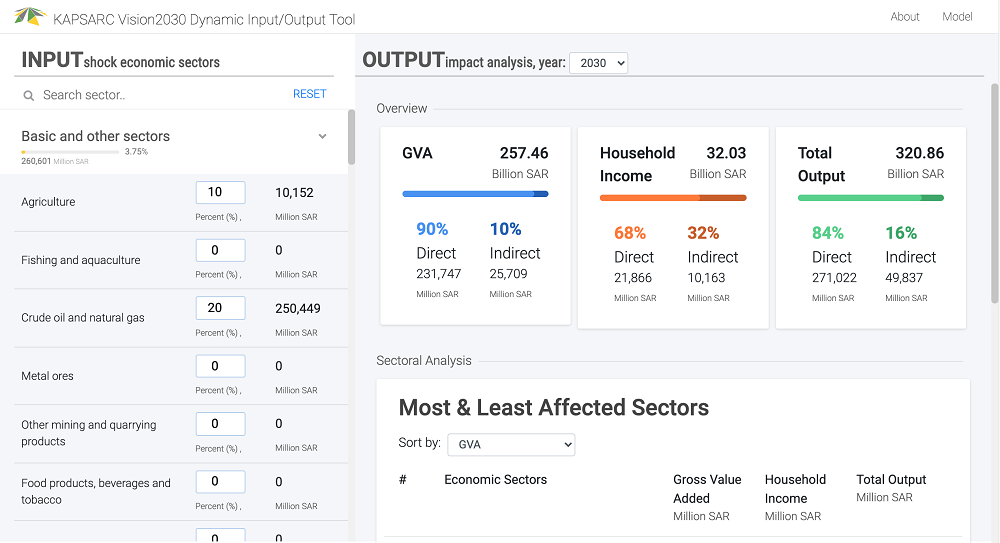 Tool

Overview

The KAPSARC Energy Data Portal is available to anyone seeking energy data for research. It is designed to enable users to better understand energy, including energy economics and energy policies.

The portal is updated regularly to include new data sets with the aim of expanding the scope of coverage as well as keeping the information current. Data sets can currently be exported in CSV, JSON, EXCEL formats or accessed using API for use in mobile and web applications.
Preview
Tool

Overview

The KAPSARC Transport Analysis Framework (KTAF), is a tool for estimating freight transport activity and measuring the impact of transport policy measures using freely available global data sources, satellite images and nighttime lights.

Our methodology offers a solution to inadequate data access and allows for scenario building in policy planning for transportation. This approach allows for quick estimation of the effects of policy measures and economic changes on transportation activities at a global level.

The application is available in both Arabic and English. For more detail on the methodology supporting the KTAF web application, refer to the download section of the help page.
Preview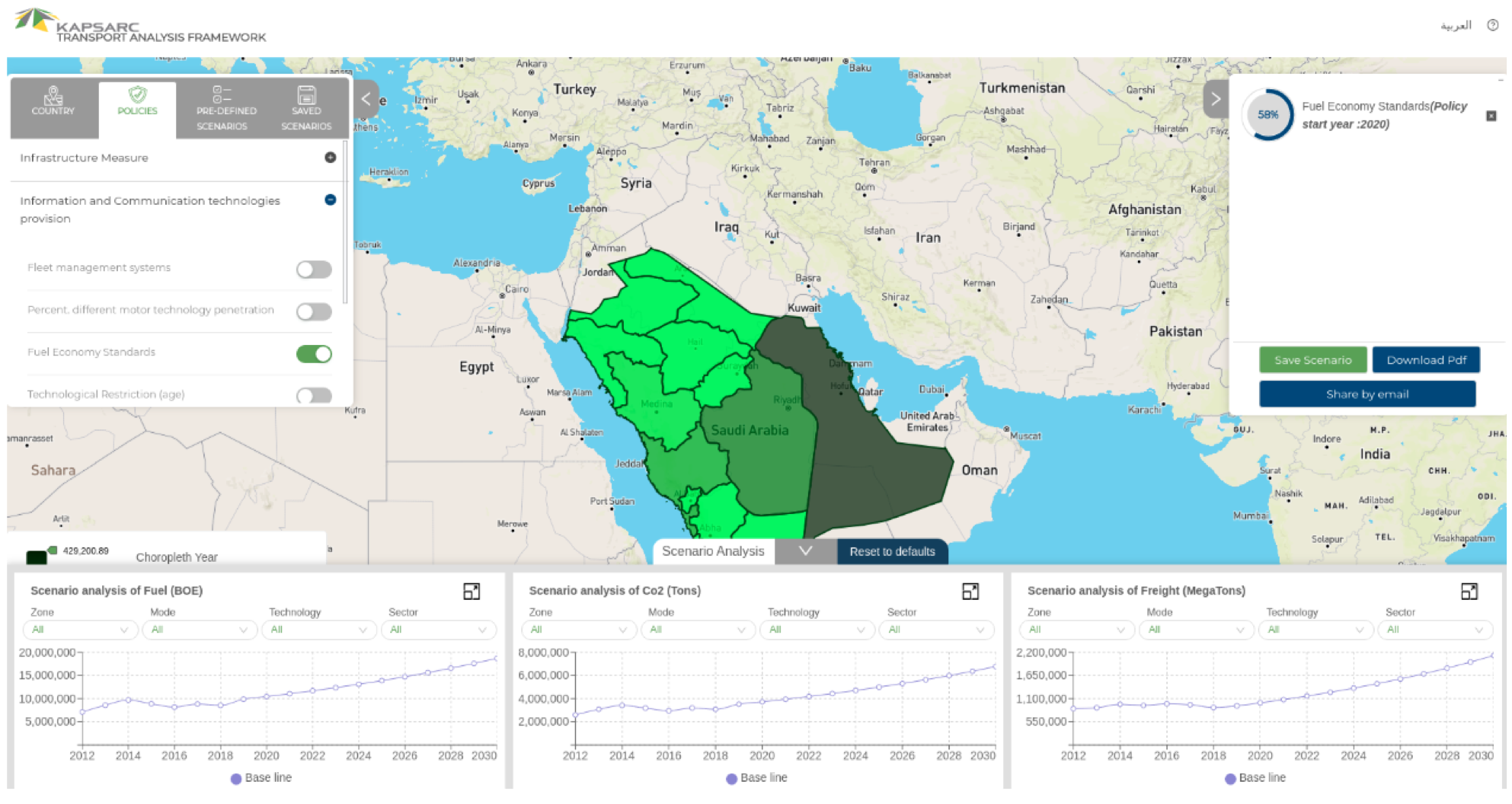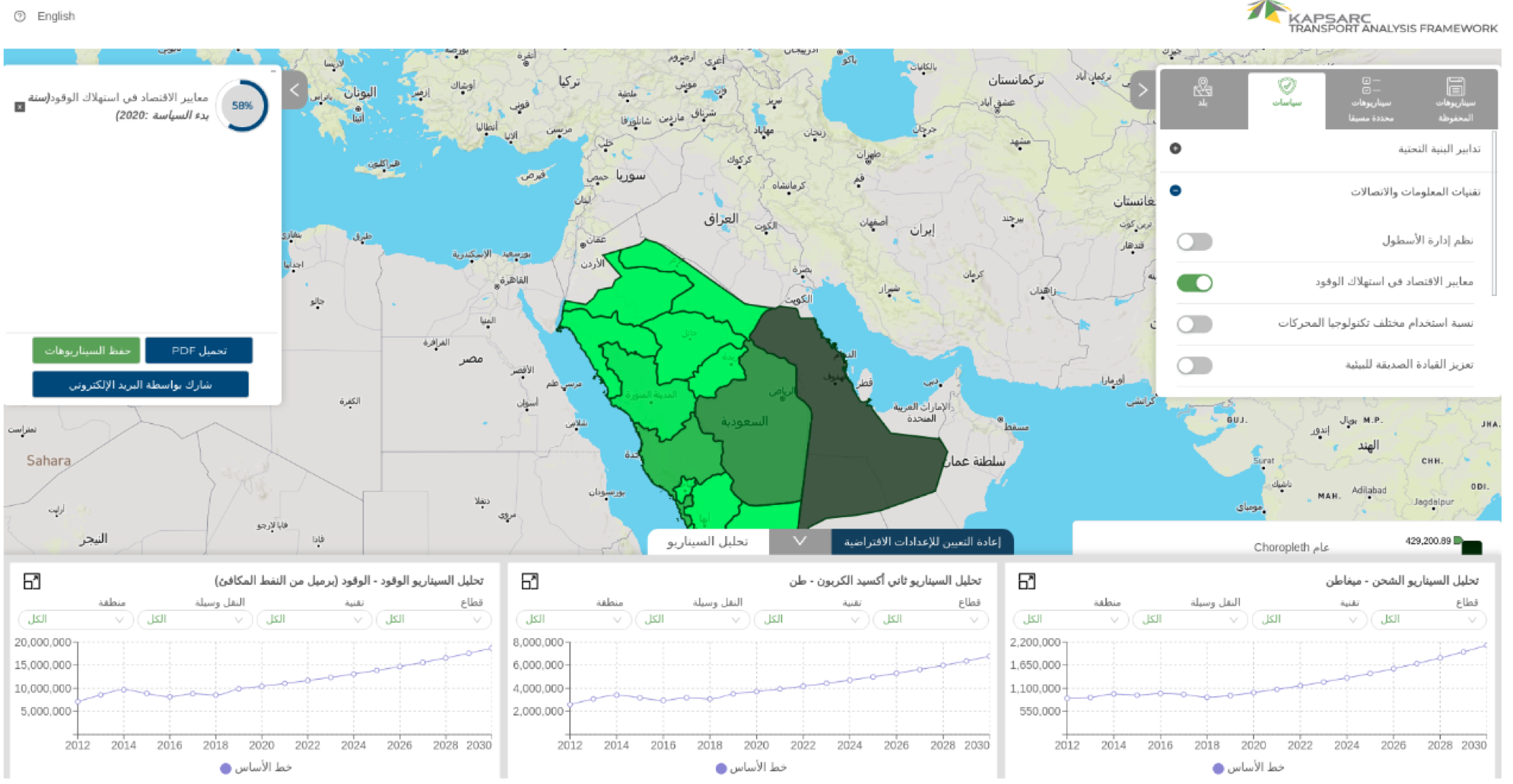 Tool

Overview

This calculator helps to determine the substitution needed to switch fuel type
Preview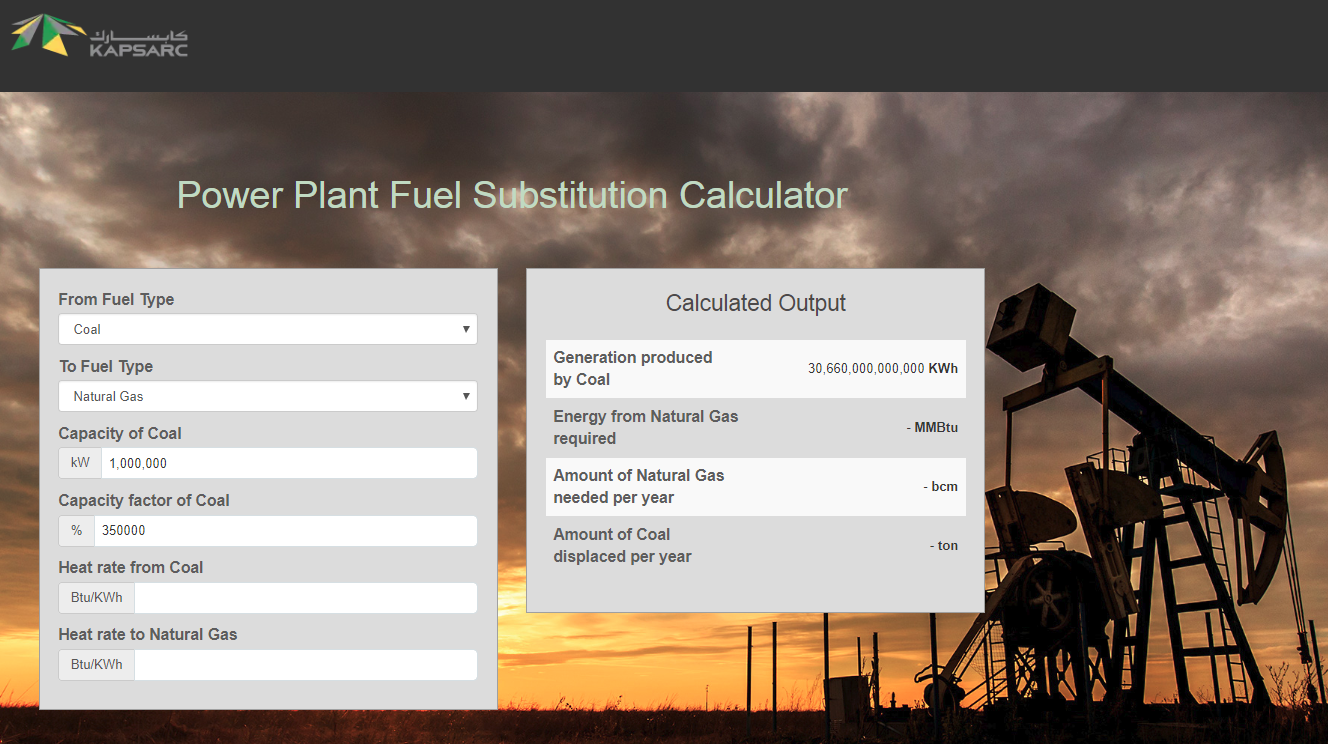 Tool

Overview

KAPSARC Datahub is an open source platform designed to manage energy model open data and it's versions, provides features to make API calls on any version of the open data you will need to consume from your modeling environment. Datahub helps to delineate open data management function from your model development. Manage open data in datahub, develop model in modeling ecosystem and call open data when needed
Preview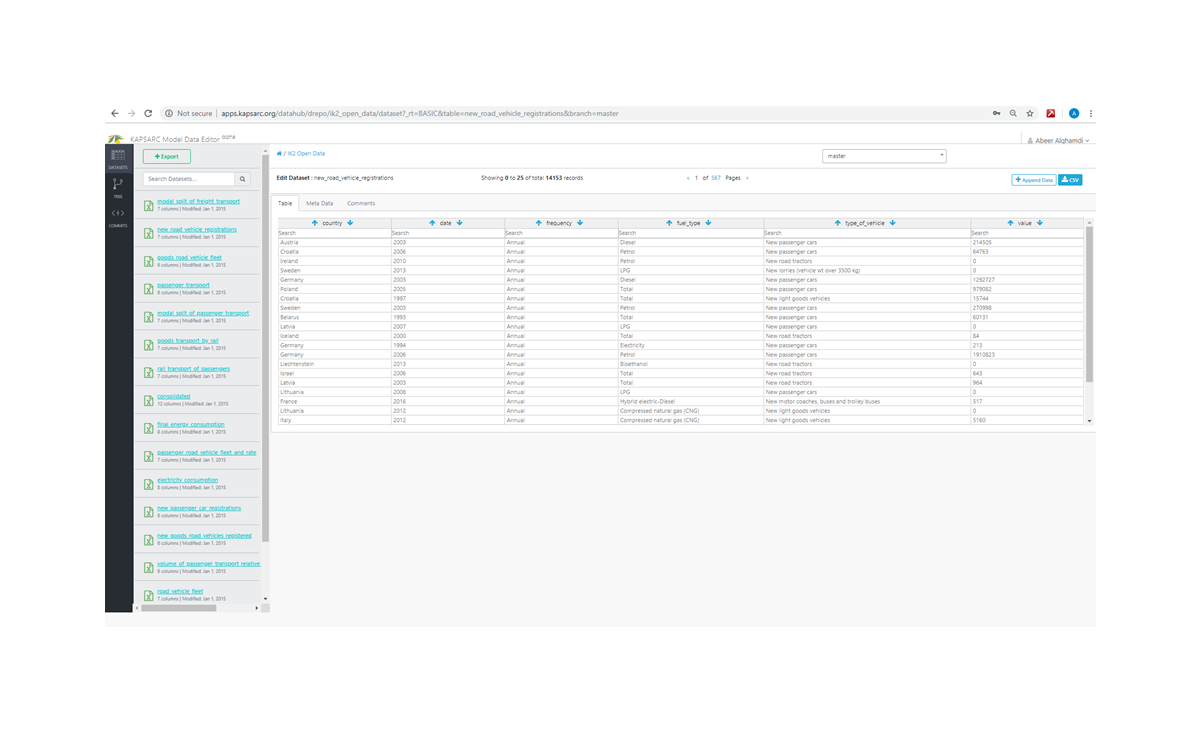 Tool

Overview

Saudi Arabia Energy Policy Simulator is designed to address the research question:

What are Saudi Arabia's domestic energy policy options for a sustainable and resilient energy future?

Energy policy choices in Saudi Arabia can affect the domestic output of CO2 and other emissions, impact consumer costs, and alter energy export revenues. This easy-to-use tool illustrates the interactions and cumulative effects of some of the most common measures that are used around the world to help lower emissions and improve energy efficiency. The Saudi Arabia Energy Policy Simulator (EPS) is a free and open-source computer model jointly created by 

Energy Innovation LLC

 and the 

King Abdullah Petroleum Studies and Research Center (KAPSARC)

.

The Energy Policy Simulator allows you to examine the effects of potential energy policies, build your own policy package, and see immediately how shifts in policy variables can change the outcomes. Try it using the button below or see the documentation for a downloadable, customizable version.
Preview
Tool

Overview

The KAPSARC Building Energy Assessment Tool is a web-based energy analysis tool designed to assist users in improving the energy efficiency of residential buildings.
Preview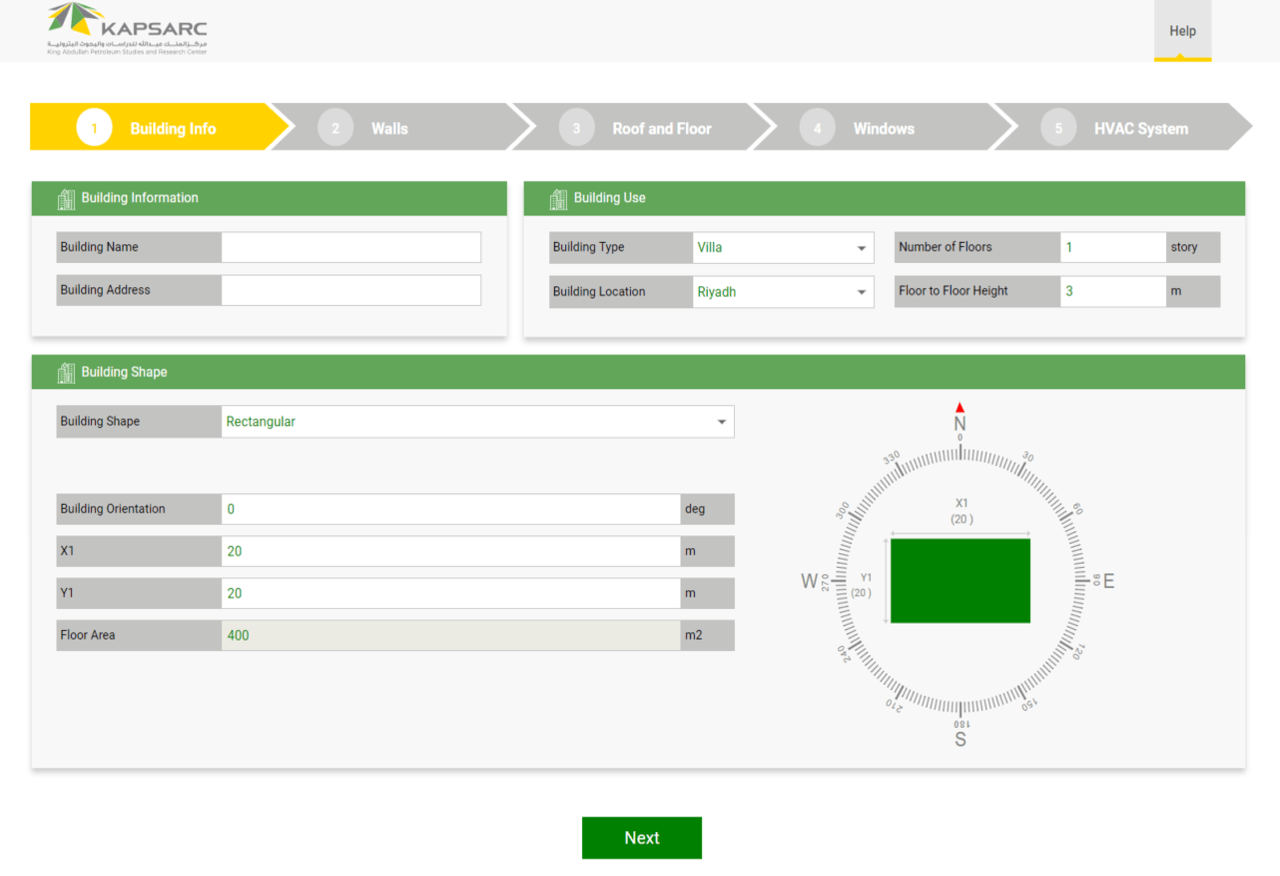 Tool

Overview

A domestic policy analysis tool that captures the interactions between Saudi Arabia and other global economies.
Preview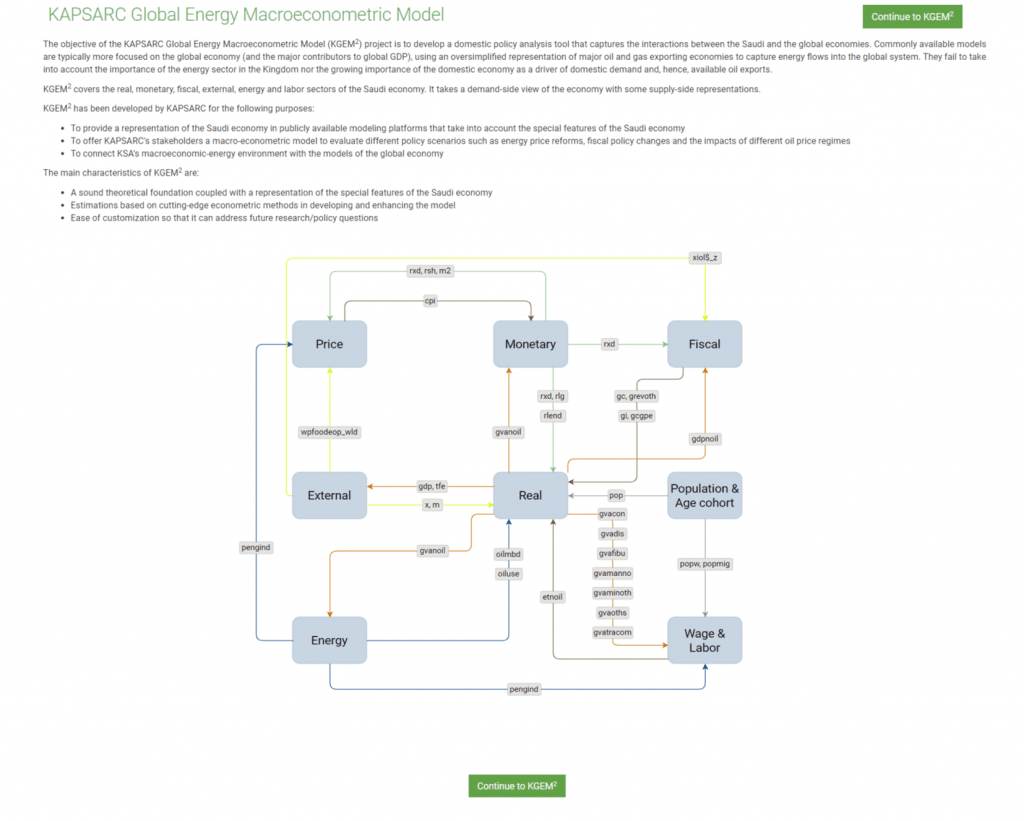 Tool

Overview

The KAPSARC Energy Model for Saudi Arabia is a partial economic equilibrium model that represents six major energy producing and consuming sectors in Saudi Arabia. These sectors are electric power, petrochemicals, refining, water desalination, upstream oil and gas, and cement.
Preview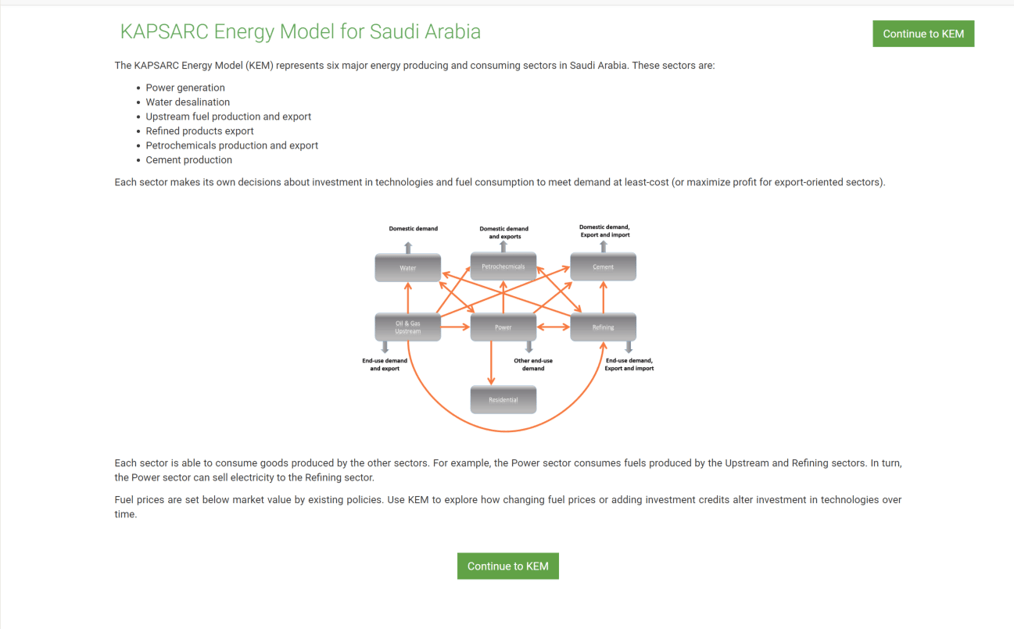 Tool

Overview

The KAPSARC Toolkit for Behavioral Analysis is an open source platform for building models. It enables a systematic and rigorous analysis of collective decision-making processes. To download the software, source code, data, presentations, and for more information see www.ktab.software
Preview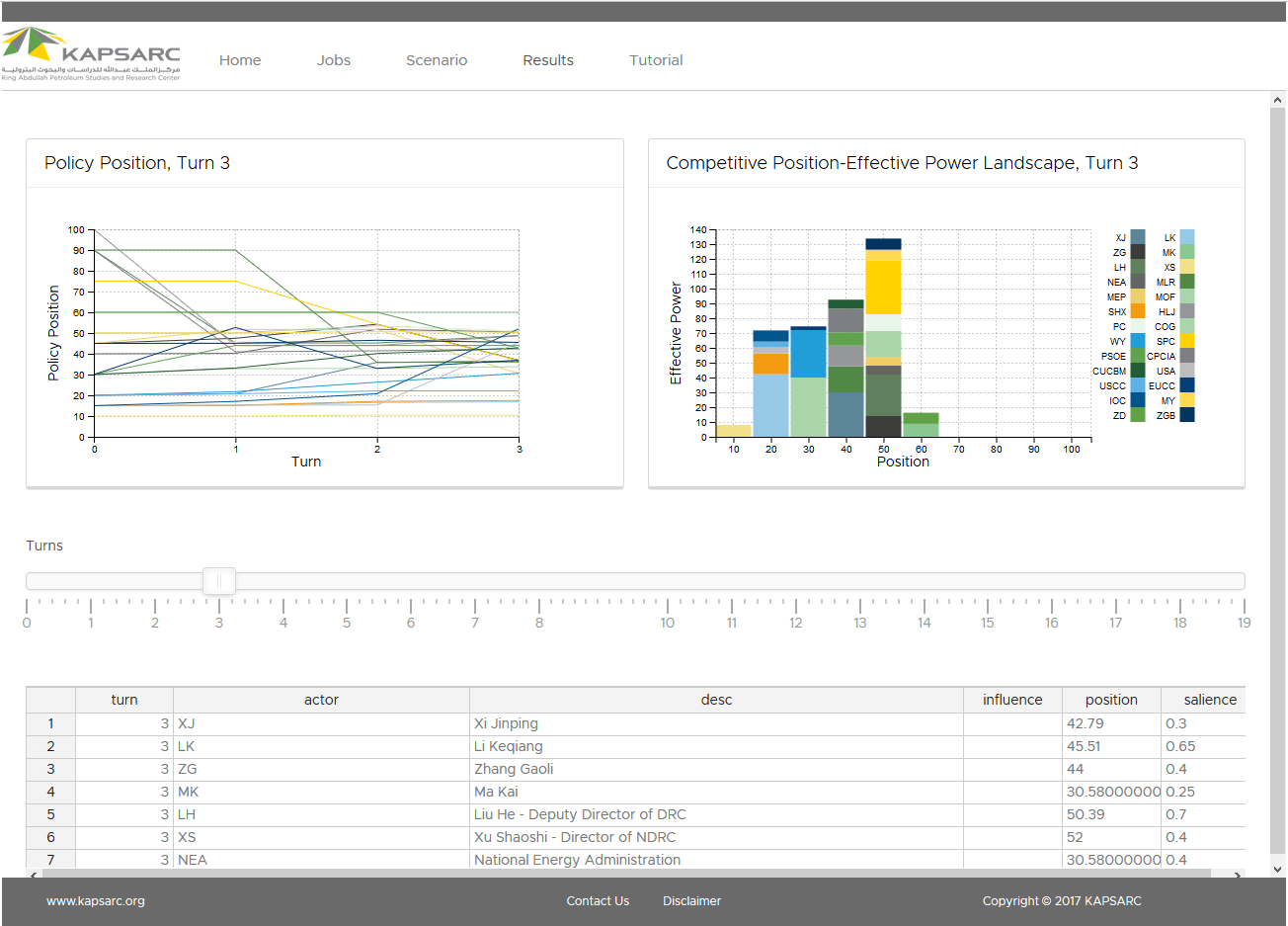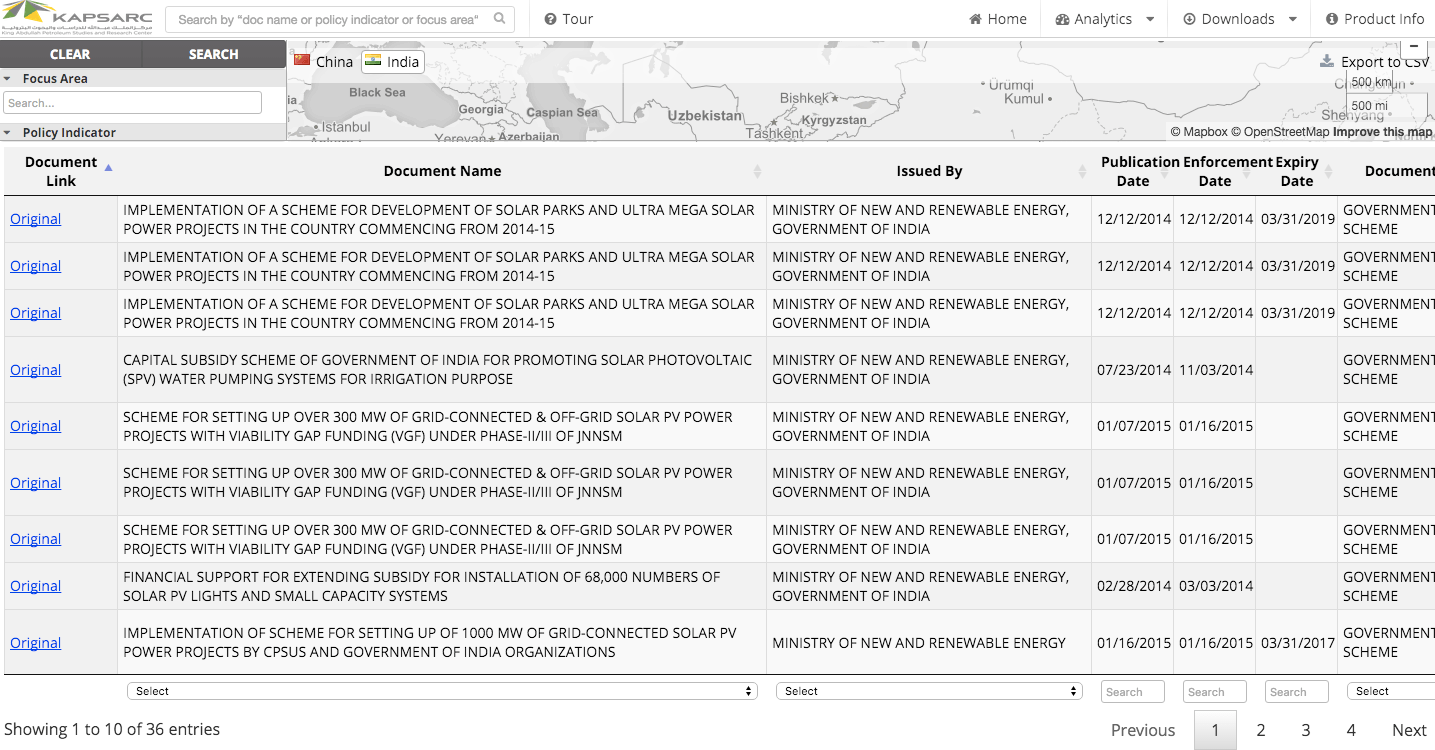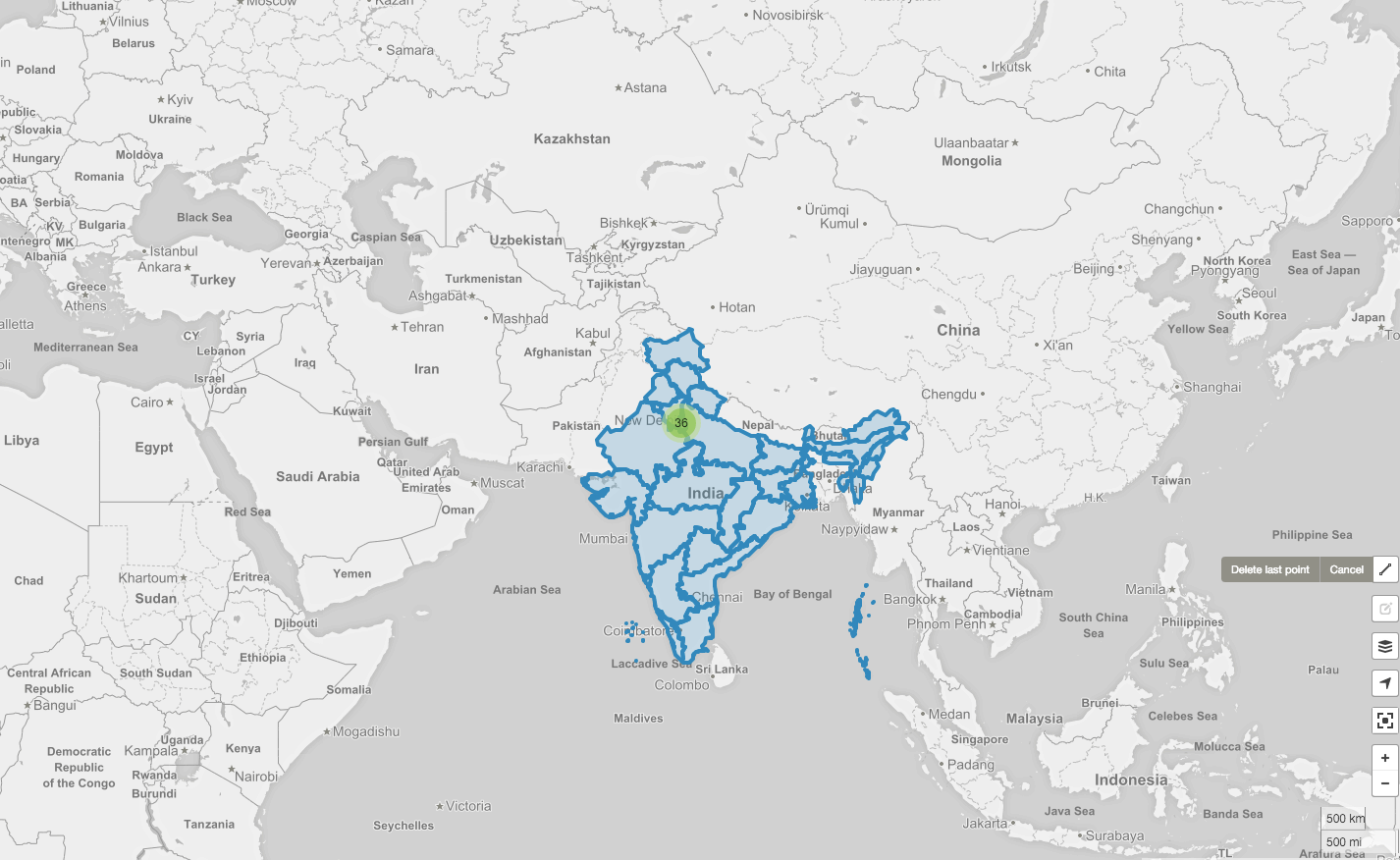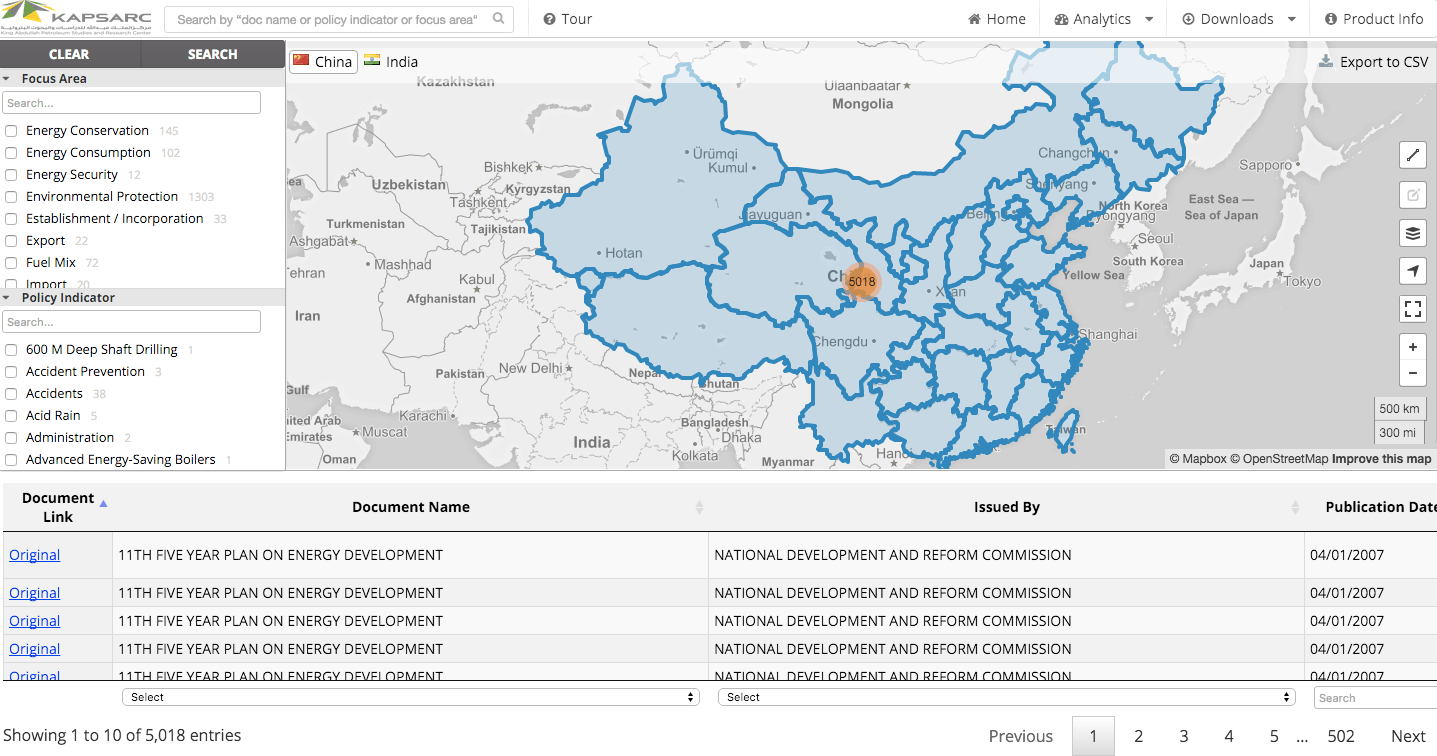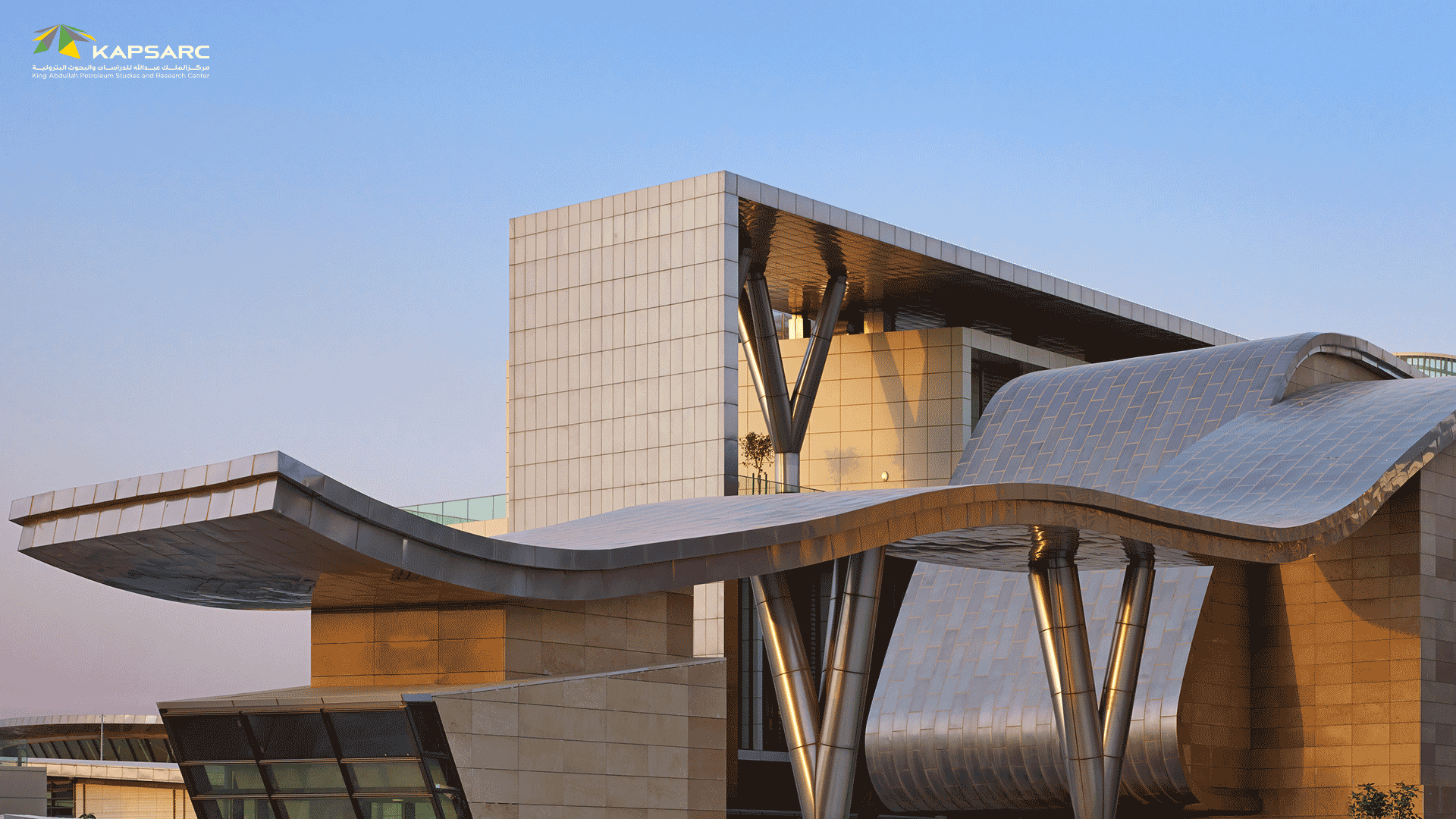 Tool

Overview

A scenario-based model to help policymakers explore the incremental user cost implications of different passenger car powertrain technologies.
Preview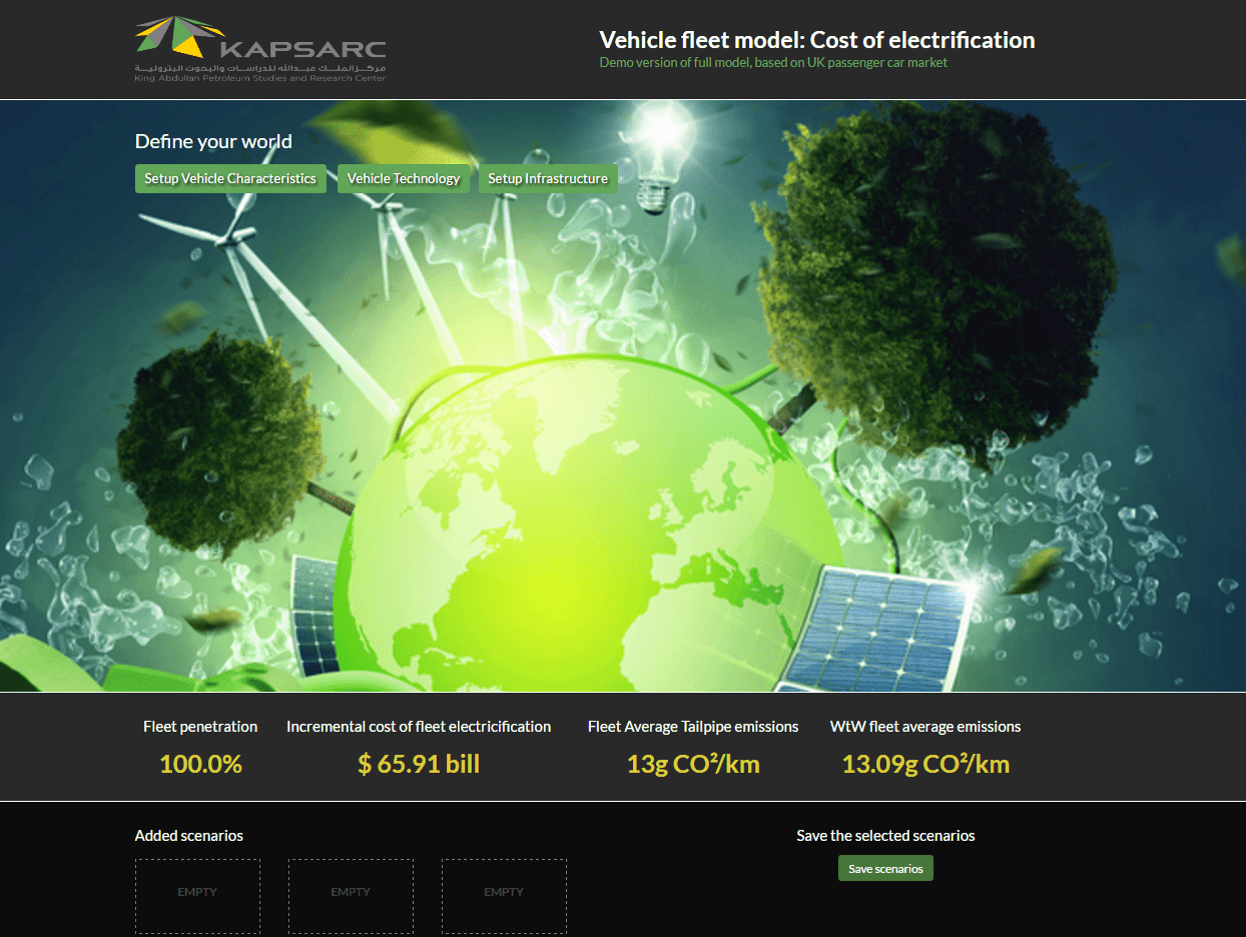 Tool

Overview

KAPSARC's India Renewable Energy Policy Atlas provides specific state and national level coverage of energy policies in India. It presents a policy landscape covering many geographies within India to gain holistic and comparative insights into policy frameworks.
Preview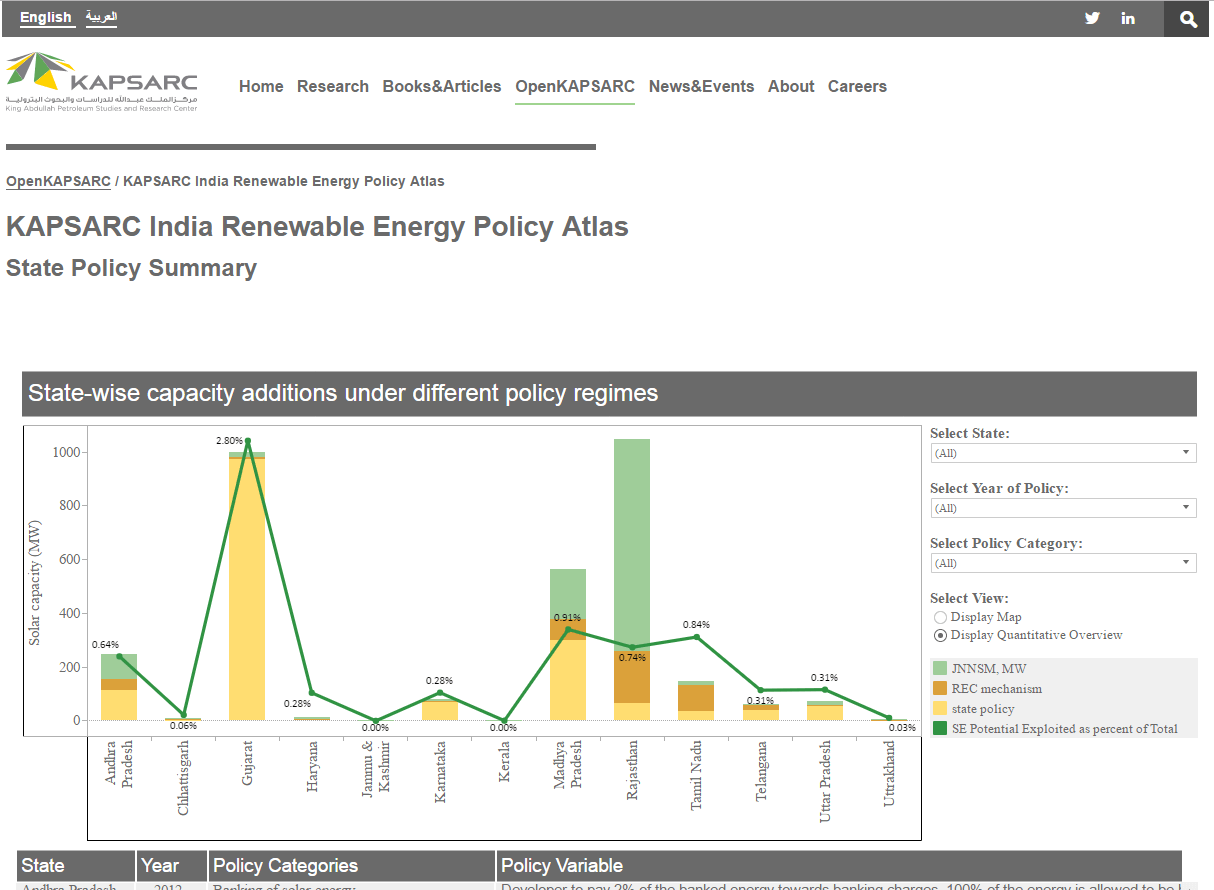 Tool

Overview

This toolkit presents interactive data on capital costs and levelized cost of energy for solar photovoltaic technology by year and country.
Preview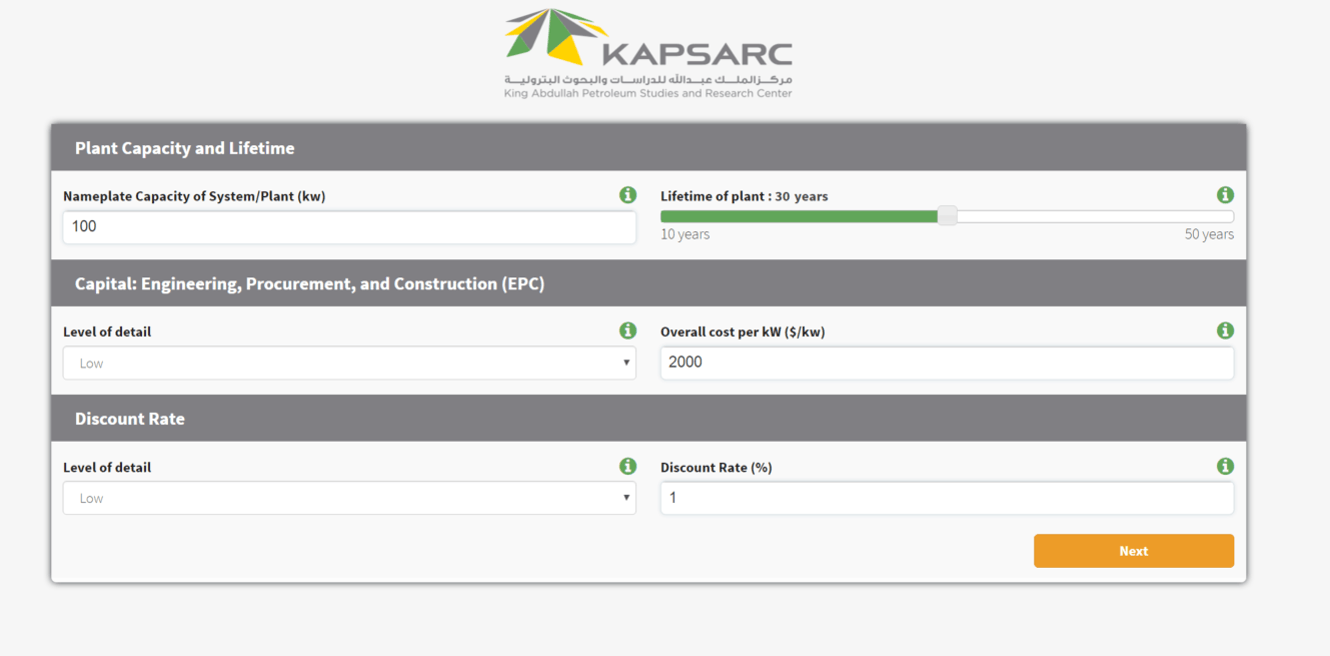 Tool

Overview

Data profiler helps to assess the data quality of datasets in KAPSARC data portal or on your uploaded dataset.
Preview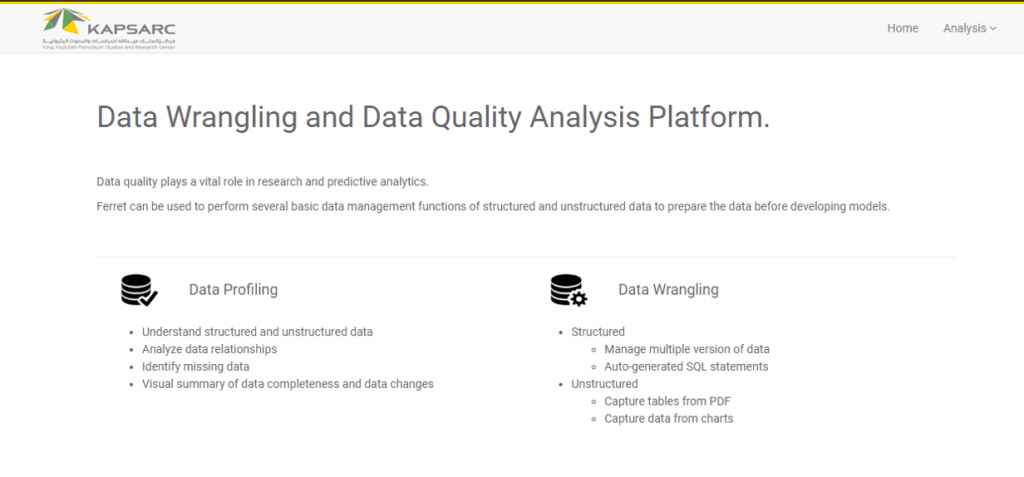 You're about to download:
×