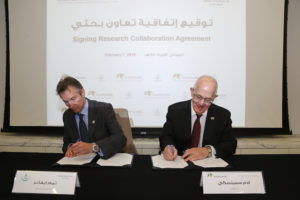 The King Abdullah Petroleum Studies and Research Center (KAPSARC) has signed a Collaborative Framework of Understanding (CFU) with the Royal Court's National Risk Unit (NRU) to strengthen cooperation and partnership between the two organizations.
The CFU, which was signed at KAPSARC's headquarters, aims to help the Kingdom prepare for future risks by providing policymakers and stakeholders with advice and suggested solutions to current and predicted risk- challenges.
Under the terms of the CFU, KAPSARC researchers will work closely with an NRU team on a range of risk-related topics and sectors.
"This agreement has come as a result of KAPSARC's commitment to enhance its research and investigation roles and to support the Kingdom in achieving its Vision 2030 goals by sharing experiences and knowledge with local organizations," said KAPSARC President Adam Sieminski at the signing ceremony.
A Risk Workshop, the largest of its kind in the Kingdom, was held on the sidelines of the CFU signing ceremony. The gathering, organized by the NRU, brought together almost 80 experts from public and private institutions who sought to identify the short- term risks that Saudi Arabia could face.
The NRU aims to identify risks to the safety, security and wellbeing of the citizens of Saudi Arabia. In addition, the unit is working to develop national resilience by assessing, anticipating, preventing, preparing, and responding.
KAPSARC is a non-profit global institution located in Riyadh.  The Center is dedicated to independent research into economics, policy, technology and the environment, across all types of energy.  Its mandate is to advance the understanding of energy challenges and opportunities, through unbiased, timely and relevant studies that inform policy-making.