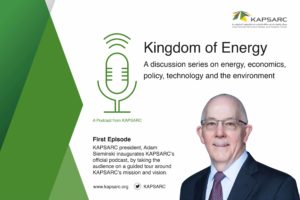 Published by Arab news, May 24.2019
The King Abdullah Petroleum Studies and Research Center (KAPSARC) has launched a podcast entitled 'Kingdom of Energy', in which a number of the
center's researchers and other experts discuss energy economics, policies, technology and the environment.
This podcast is part of the Riyadh-based center's media initiatives, which aim to enrich the energy debate locally and internationally, especially given the fact that Saudi Arabia is one of the world's leading oil exporters. The podcast also provides a chance to hear the views and thoughts window of some of the center's top energy experts and from some of its local and international partners.
The podcast is targeted at decision makers, energy professionals and fellow academics and experts. and is part of a new, freely-available, offer on the center's website, allowing visitors to add listening to KAPSARC's thought leadership and energy insights as well as reading the center's many published papers and studies.
KAPSARC intends to produce more Kingdom of Energy podcasts at regular intervals. Currently available in English, another series is being produced in the Arabic language.
KAPSARC is a non-profit global center that conducts independent research in the fields of energy economics, policies, technology and environment. The center is working on finding solutions for the most efficient and productive energy use to enable economic and social progress locally, regionally and globally.